Define stakeholder needs, validate test results, and support the project's business objectives.
Introduction
Each project needs its own set of requirements. You define requirements by clicking Define > Requirements in the header.
If you have trouble setting requirements, make sure a project exists. If it doesn't exist, you need to create a project to continue.
Using requirements is common practice when developing and implementing software. Any project can benefit from clear, well-defined requirements. Learn more about requirements in TestMonitor to improve your quality assurance.
Functionality overview
The Requirements overview page provides a list of defined requirements for the active project. The Name, Type, and linked Test Cases are shown for each requirement.
Use the Search tool to find a requirement that matches your search parameters. Next to the Seach tool, the Filter icon opens a side panel.
Click the Cog on the right side of the page to edit column display.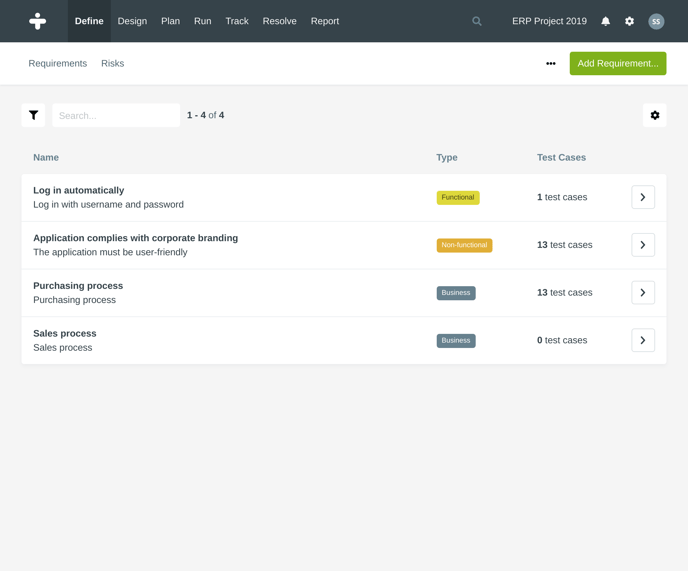 Using filters
The filter side panel on the left side of the page provides the following:
Type

The type of requirement.

Tags

Shows requirements marked with a specific tag.

Updated

Shows requirements updated within a specific time frame.

Trashed Requirements

Shows only trashed requirements.
Customizing filter settings
Click the Cog next to the Filter icon to open a menu. Use the checkboxes to hide or unhide filter fields.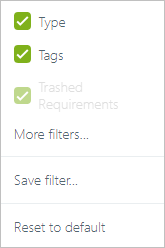 To quickly restore frequently used settings, click Save filter. Click the Cog and then select Save filter on the menu.
A pop-up box displays. Enter a filter name.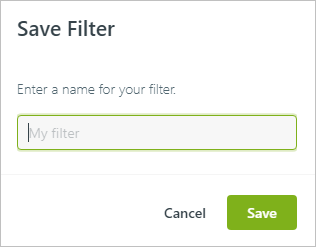 Use multiple filters to combine several criteria like Type and Tags. Select Reset to default on the menu to deactivate all custom filters.
Configuring column display
Name, Type, and Test Cases are the default columns on the Requirements overview page. You can hide or unhide columns by clicking the Cog on the right side of the page.
The other columns are Tags, Created, and Updated. Click Reset to default to go back to the default display.