View results and issues.
Functionality overview
Our solution is called row expandables: table rows that can be expanded with a simple click. When opening a test case or test run on the track test results page, each related test result will be shown in the expanded section.
Click a test case or the +.




You can link existing issues or add new issues on the sidebar. Go to Create an Issue to learn how to do this.
Quick actions
Quick actions are integrated into every test result.




Mark as viewed
Mark as viewed, is a smart way to keep an overview. What have I already seen and what remains to be seen. Using the filter option "Hide viewed test results" and an extra column "Viewed" makes it more effective.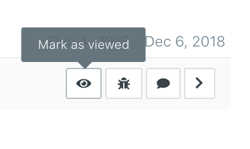 Creating an issue
You create an Issue based on test results. This allows you to relate multiple test results to one issue. It also gives you more options later in the testing process when tracking issues. Issues created from test results can, for example, be filtered based on their related risks and requirements.
Create an issue by opening the Issues sidebar from the Test Cases or Test Runs overview pages.
In the icon bar, click the Add Issue icon. A pop-up box displays. Specify the issue and select the related test result(s).
We explain how to create an Issue in the next tutorial.


Linking to an existing issue
You can link one or more test results to an existing issue.
Select a result from the Test Cases or Test Runs overview page. Click the Test Results tab. Click the Issues icon and then click the Link to Issue button. A pop-up box displays. Select the issue and the test result(s).

Comment
To keep the communication running smoothly, there is the possibility to comment on a test result. This can be a comment as additional information, but it can also be a question to the tester to reconsider his or her result. Use the @mention and #link to indicate specific users or relationships with issues.
The @mentioned user will be notified and can directly rerun this specific test result and can include some extra comments.
Track Test Runs