Monitor and analyze real-time report data.
TestMonitor offers a robust view into test data with 13 integrated reports to choose from, including project summaries, test workload, coverage reports and traceability matrices. The full list can be viewed at the end of this article.
Averages and projections within certain reports help you forecast results and estimate general progress. These report features are designed to provide you with the most and the best pieces of the reporting puzzle.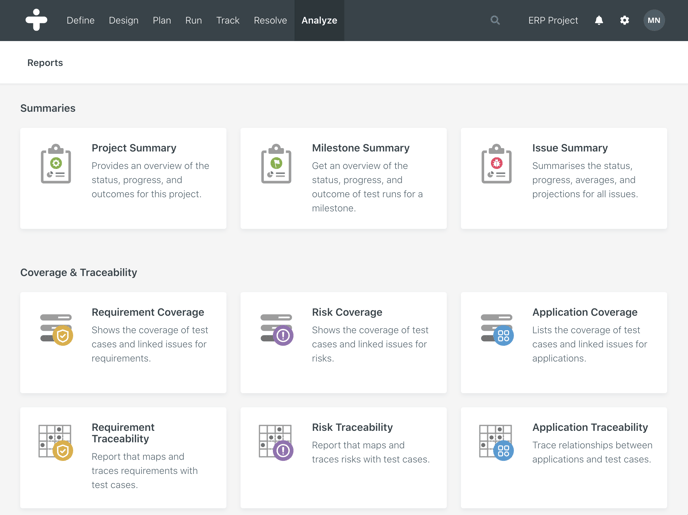 Customize your reports
When data isn't displayed in the way you prefer, our customization features give you more control. These customization options enable you to show or hide charts, change chart types, and configure chart labels and legends. You can also resize and re-order charts to your liking.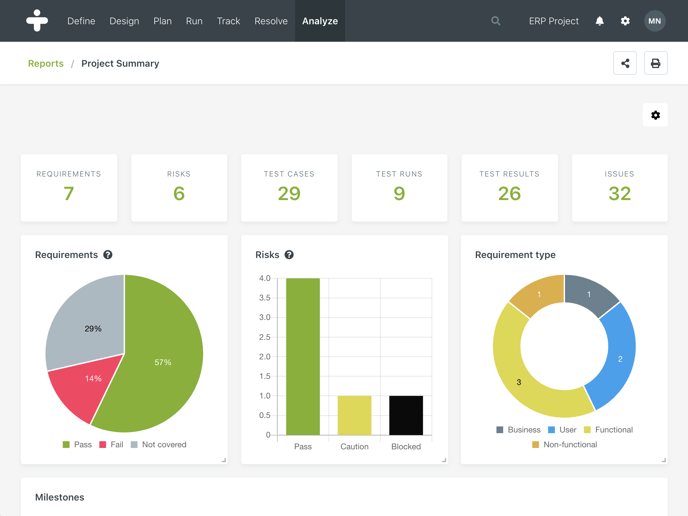 Share and Print features
You can share any report by clicking on the share button and picking one or more project members. You can even add a message to provide more input regarding the context of the report. In turn, the selected members will receive a notification with a link that will take them to the report, including your filter settings. With the print button on the report page you can also print or export your report to pdf.
Full list of integrated reports:
Summaries:
Project Summary
Milestone Summary
Issue Summary
Coverage & Traceability:
Requirement Coverage
Risk Coverage
Application Coverage
Requirement Traceability
Risk Traceability
Application Traceability
Planning:
Test Workload
Task Report
Changelog
Ohter: