Single Sign-on allows you to use your favourite identity provider to manage your team's access and authentication securely.
Configure Single Sign-on
You can set up and configure Single Sign-on for your company by selecting Single Sign-on in the settings menu.
Switch on Use Single Sign-on.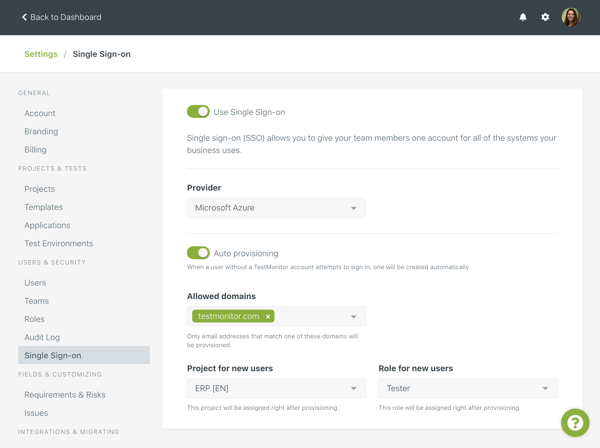 TestMonitor's Single Sign-on is based on OAuth 2.0 and integrates with Google Cloud Identity and Microsoft Azure Active Directory. Select the provider you want to use.

If Auto Provisioning is switched off, only users that already have an account in TestMonitor can sign in.

If you switch on Auto Provisioning and a user without a TestMonitor account attempts to sign in, an account will be created automatically. If you fill in Allowed domains, only email addresses that match one of these domains will be provisioned.

If you use Auto Provisioning, you can specify a Project for new users and a Role for new users. This project and role will be assigned to the user right after provisioning. You can update the role and project afterwards.


Single Sign-on is not available within every plan. If SSO is not available within your plan you can upgrade your subscription to get this feature.

Sign in with Single Sign-on
If Single Sign-on is configured the option to Sign in with Microsoft or Google is displayed on the login page of your TestMonitor.
Click the button and fill in the email address and password of your Google or Microsoft Azure account. You are now logged in to TestMonitor.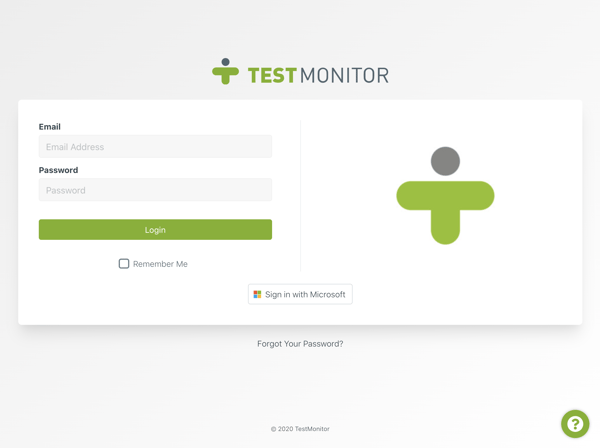 Disable Single Sign-on
If you don't want to use Single Sign-on anymore, you can simply switch off the Use Single Sign-on button.