Upload test cases in Excel or CSV files.
Functionality overview
Click Design in the header and then select a test suite destination for the upload file.
On the Test Cases overview page, click the three dots in the top right corner of the page. Select Import.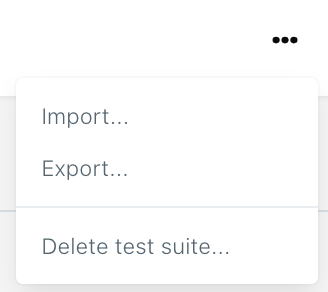 To import a file, complete three steps:
Upload

Mapping

Confirm

Upload
Before you import test cases, prepare an Excel or CSV file with the required columns (see below for required and optional column headings).
To upload a file, click the cloud icon. You can also drag a file to the upload field.
Click the Mapping button in the bottom right corner of the page to go to the next step.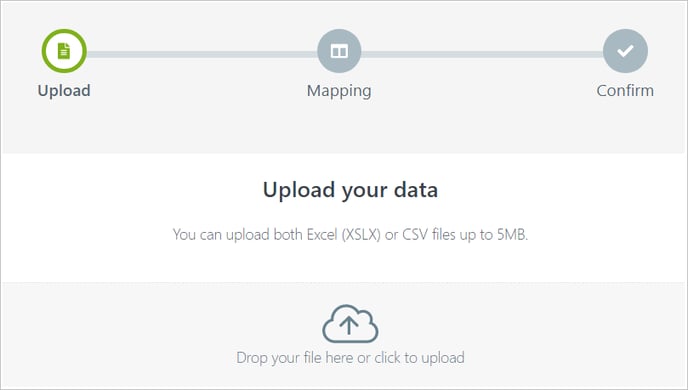 Importing is a complex process. A lot of data is processed in a short period of time. Follow these tips when creating a file to minimize upload errors.
Create one row for each instruction. A test case with multiple instructions must have an equal number of rows.

The file must contain two required columns with proper values: Name and Instructions.
Mapping
Click the drop-down menu to map a column in the file to the correct column in TestMonitor. After you map a column, click Next to map another column.
Click Skip to move past an optional column.
When complete, click the Confirm button to go to the third step.

For test cases, the following columns are available for mapping:
Name (required)

Instructions (required)

Preconditions (optional)

Expected Result (optional)

Test Data (optional)

Duration (optional)
You do not need to map a column that is marked optional.
Confirm
Click the Finish button to start the import. When the import job finishes, you receive an email message. If there is an import problem, the email message says the row number and describes the cause of the problem.
You can find the import file on the Imports overview page. Click the Cog button in the right corner of the top menu bar. On the Settings page, click Import. The page lists imported files.

Test Cases