View and update your TestMonitor Account to keep track of your subscription and environment information.
Under the settings you can view and update your TestMonitor environment and all its general information. This is the place where you can manage things such as the default language preferences for your environment, the account name and even your domain. You can also get a quick overview of your subscription.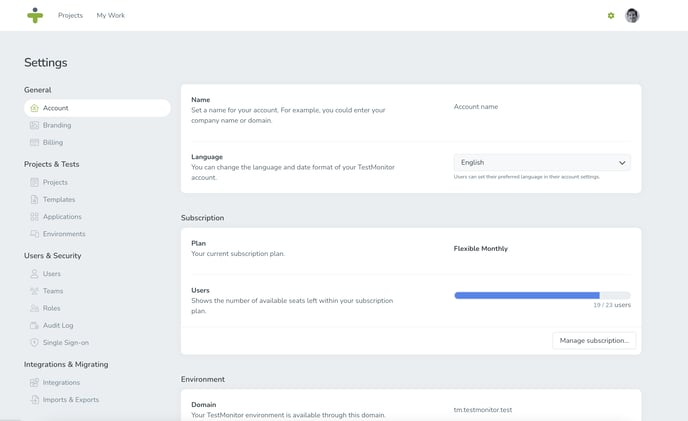 Update your Account
To view and manage your account information, click the
gear
icon in the header to open the
Settings
. The account information will be the default landing page.
The following fields can be seen:
Name: The name for your TestMonitor account. For example, you could enter your company name or domain. To edit the Account Name move the cursor over the field and click the pencil icon.
Language: Here you can set the language and date format of your TestMonitor account to English, Dutch or German.

Individual users can set a language preference in the profile settings. If users have not chosen a language preference, the language selected for the TestMonitor account will be their default language. The login screen will also be in this language for all users.
Subscription
The subscription section contains all the information you need to know about your TestMonitor plan. The section displays the name of the plan you are currently subscribed to. The bar shows how close you are to utilizing all your user seats and has a clear number of user spots assigned verse the total available for your plan.

Click the Manage Subscription button to see information about how often your payments are due or the date your free trial is over.
If you want to change your TestMonitor subscription, click Manage Subscription. This will open the billing page, where you can manage your billing or see the plan details if you have a fixed plan. This is also where you can turn your free trial into one of the subscription plans to keep using TestMonitor.
Environment
In the environment section you will be able to manage your domain and see what version of TestMonitors you are currently on.
Domain: Your TestMonitor environment is available through this domain. This can be updated by clicking the Update domain button. Here you can specify a new domain and select Update.
Version: The current version of your TestMonitor. If a new version is available, your TestMonitor is updated automatically.

In case your TestMonitor domain is updated, make sure to notify all users in your environment, as they need the correct domain URL to access the TestMonitor environment. Old URLs and links in notifications won't be usable anymore.